DO COMPANIES MANAGE TAXABLE AND ACCOUNTING EARNINGS SIMULTANEOUSLY IN TIMES OF CRISIS?
Abstract
Objective: This paper aims to investigate whether Brazilian companies are involved in earnings management and tax aggressiveness practices simultaneously in periods of economic crisis.
Method: The sample consisted of 2,301 observations from 142 non-financial companies with shares traded at B3 stock exchange, between 1998 and 2019. Data were collected in the Economática® database.
Results: The findings show that, in periods of crisis, companies engage more in tax aggressiveness to improve cash flow and pay less taxes. In addition, companies manage more downward accounting results during crises, as the market tolerates poor financial performance in these periods. There is no evidence that companies engage in accounting earnings management and tax aggressiveness simultaneously in times of economic crisis, since this maneuver increases the transaction cost or risk before regulatory bodies.
Contributions: The findings have practical implications for observing the regulatory bodies, that companies that adopt aggressive behavior in tax savings do not tend to manipulate their profits in the same period, a strategy possibly explained by the risk involved in the operations.
Downloads
Download data is not yet available.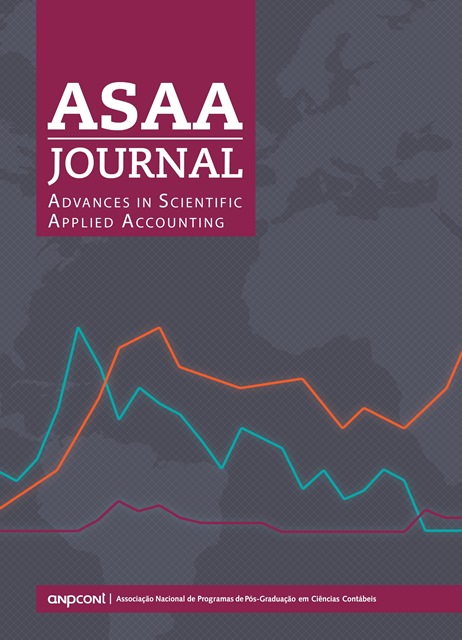 Downloads
How to Cite
Tardin, N., & de Oliveira, W. L. (2022). DO COMPANIES MANAGE TAXABLE AND ACCOUNTING EARNINGS SIMULTANEOUSLY IN TIMES OF CRISIS?. Advances in Scientific and Applied Accounting, 14(3), 192–203/204. https://doi.org/10.14392/asaa.2021140307
License
Copyright (c) 2021 Neyla Tardin, Wilson Luis de Oliveira
This work is licensed under a Creative Commons Attribution-NonCommercial 4.0 International License.
Copyright for articles published in the ASAA Journal is held by the author, with first publication rights to the journal. By virtue of appearing in this publicly accessible journal, the articles are free to use, with their own attributions, in educational and non-commercial applications. The ASAA Journal will allow the use of published works for non-commercial purposes, including the right to submit the work to publicly accessible databases. Published articles are the authors' full and exclusive responsibility. There are no submission/publishing charges or fees for processing articles (APC).