EFFECT OF ECONOMIC FREEDOM ON CARBON DISCLOSURE: AN INTERNATIONAL INVESTIGATION
Abstract
Objective: This study investigates how the institutional variables of economic freedom affect the disclosure of carbon by companies.
Method: Data from a sample of 1,328 companies based in the 19 countries that emit the most carbon into the atmosphere is analyzed through a hierarchical regression, in which the dependent variable is the disclosure of carbon, and the independent variables represent the degree of economic freedom of the countries.
Results: The results found indicate that companies disclose more information about carbon emissions in countries with greater government participation in the economy and where the law is more enforced.
Contribution: Our study brings new evidence about the determinants of carbon disclosure using the theoretical lens of the Varieties of Capitalism (VoC) approach, in addition to important contributions for policy makers and managers.
Keywords: Economic Freedom; Carbon Disclosure; Corporate Social Responsibility; Varieties of Capitalism.
Downloads
Download data is not yet available.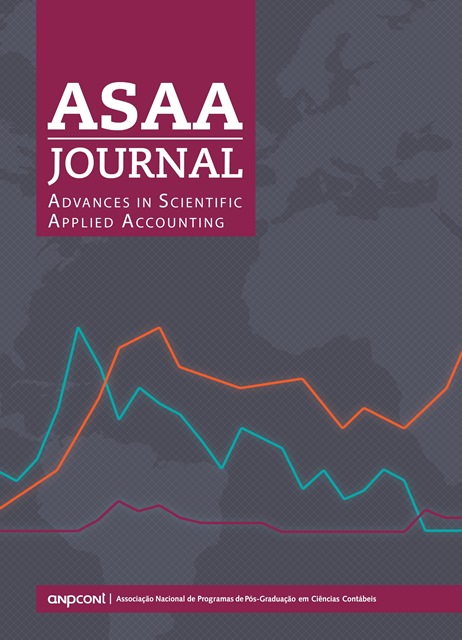 Downloads
How to Cite
Pinheiro, A. B., de Melo de Albuquerque Ribeiro, C., Mazzioni, S., & Batistella, A. J. (2022). EFFECT OF ECONOMIC FREEDOM ON CARBON DISCLOSURE: AN INTERNATIONAL INVESTIGATION. Advances in Scientific and Applied Accounting, 14(3), 256–268/269. https://doi.org/10.14392/asaa.2021140310
License
Copyright (c) 2021 Alan Bandeira Pinheiro, Cintia de Melo de Albuquerque Ribeiro, Sady Mazzioni, Ana Júlia Batistella
This work is licensed under a Creative Commons Attribution-NonCommercial 4.0 International License.
Copyright for articles published in the ASAA Journal is held by the author, with first publication rights to the journal. By virtue of appearing in this publicly accessible journal, the articles are free to use, with their own attributions, in educational and non-commercial applications. The ASAA Journal will allow the use of published works for non-commercial purposes, including the right to submit the work to publicly accessible databases. Published articles are the authors' full and exclusive responsibility. There are no submission/publishing charges or fees for processing articles (APC).