MODERATING EFFECT OF OPERATIONAL LEVERAGE ON THE RELATIONSHIP BETWEEN CORPORATE INVESTMENT AND FIRM PROFITABILITY
Abstract
Objective: the aim was analyze how the operational leverage moderates the relationship between corporate investment and profitability of companies listed on brazilian stock exchange.
Method: The sample consisted of 114 companies active in stock exchange. Regression with panel data covering the period from 2008 to 2018 was used for data analysis. Static and dynamic models were used.
Findings: The main results showed that operational leverage moderates the relationship between investment and ROA, so that the greater the operational leverage and the greater the investment, the greater the ROA. It was also observed that contemporary explanatory variables were more adequate to explain the model.
Contributions: The findings indicate that greater operational leverage is an advantage for companies that present growth opportunities and have not reached the point of overinvestment, since ROA decreases as less is invested in this scenario. The research implication is that operating leverage is a factor that must be considered both in investment decisions and in profit forecasting models. This study differs from the previous ones, as it deals with the impact of investment and operational leverage on the contemporary results of companies in a joint manner.
Downloads
Download data is not yet available.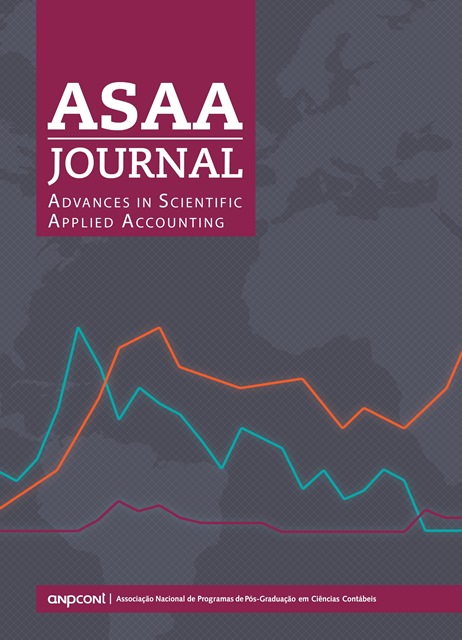 Downloads
How to Cite
Marques, K. C. M. ., Hercos Junior, J. B., & Fujihara, H. M. . (2021). MODERATING EFFECT OF OPERATIONAL LEVERAGE ON THE RELATIONSHIP BETWEEN CORPORATE INVESTMENT AND FIRM PROFITABILITY. Advances in Scientific and Applied Accounting, 14(3), 099–110/111. https://doi.org/10.14392/asaa.2021140304
License
Copyright (c) 2021 Kelly Cristina Mucio Marques, José Braz Hercos Junior, Helio Masaru Figihara
This work is licensed under a Creative Commons Attribution-NonCommercial 4.0 International License.
Copyright for articles published in the ASAA Journal is held by the author, with first publication rights to the journal. By virtue of appearing in this publicly accessible journal, the articles are free to use, with their own attributions, in educational and non-commercial applications. The ASAA Journal will allow the use of published works for non-commercial purposes, including the right to submit the work to publicly accessible databases. Published articles are the authors' full and exclusive responsibility. There are no submission/publishing charges or fees for processing articles (APC).