BEYOND THE FINANCIAL AUDIT: FACTORS THAT CAN INFLUENCE THE PRESENCE OF LARGEST ACCOUNTING FIRMS IN THE ASSURANCE MARKET OF SUSTAINABILITY REPORTS IN BRAZIL
Abstract
Purpose: The purpose of this paper is to analyze the factors that can influence the presence of largest accounting firms in the assurance market of Sustainability Reports in Brazil.
Method: The sample includes 47 public companies that assured their sustainability reporting from the period 2012-2018. Data were analyzed using the statistical techniques Anacor, HOMALS and hierarchical logistic regression for panel data.
Findings: The evidence supports that the provision of audit and sustainability assurance services, as well as mimetic isomorphism are factors that positively affect the entry of largest accounting firms in the assurance market of sustainability reports in Brazil. These results suggest a potential competitive advantage for the largest accounting firms over other providers in this emerging market.
Research implications: This work has important practical implications for professionals and standardization bodies in the accounting area, because the notarization of accounting professionals in the assurance market of sustainability reports should promote interest in developing institutional support for this practice.
Downloads
Download data is not yet available.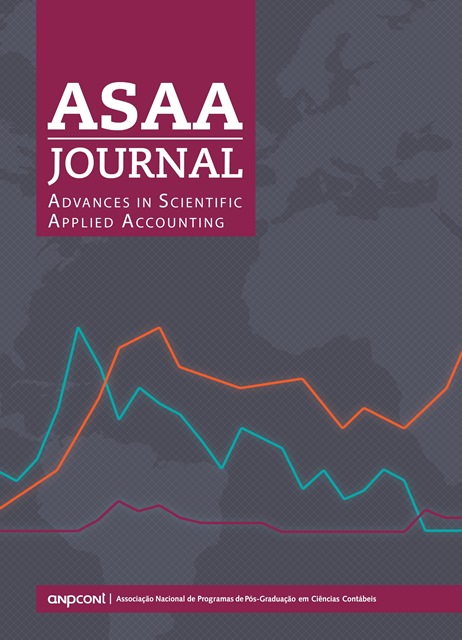 Downloads
How to Cite
Silveira, G. B. ., Van Bellen, H. M. ., & Mussoi Ribeiro , A. (2021). BEYOND THE FINANCIAL AUDIT: FACTORS THAT CAN INFLUENCE THE PRESENCE OF LARGEST ACCOUNTING FIRMS IN THE ASSURANCE MARKET OF SUSTAINABILITY REPORTS IN BRAZIL. Advances in Scientific and Applied Accounting, 14(3), 070–084/085. https://doi.org/10.14392/asaa.2021140303
License
Copyright (c) 2021 Gabriela Borges Silveira, Hans Michael Van Bellen, Alex Mussoi Ribeiro
This work is licensed under a Creative Commons Attribution-NonCommercial 4.0 International License.
Copyright for articles published in the ASAA Journal is held by the author, with first publication rights to the journal. By virtue of appearing in this publicly accessible journal, the articles are free to use, with their own attributions, in educational and non-commercial applications. The ASAA Journal will allow the use of published works for non-commercial purposes, including the right to submit the work to publicly accessible databases. Published articles are the authors' full and exclusive responsibility. There are no submission/publishing charges or fees for processing articles (APC).