BUDGETARY, POLITICAL AND SOCIOECONOMIC DETERMINANTS OF POLITICAL-PARTY SUCCESSION: EVIDENCE OF ELECTORAL BEHAVIOR IN BRAZILIAN MUNICIPALITIES
Abstract
Purpose:  despite actions to intensify governance, transparency and accountability, there are still tendencies for government officials to manipulate fiscal and budget results and/or use political and socioeconomic information and direct their actions to achieve their own benefit, especially aiming political-party succession. Thus, the aim of this paper was to evaluate the influence of budgetary, political and socioeconomic aspects in the re-election of managers and in the reappointment of parties in Brazilian municipalities.
Method: data were collected from Brazilian municipalities with a population above 100,000 inhabitants for the electoral cycles of 2004, 2008, 2012 and 2016. Data were submitted to Logistic Regression with panel data.
Results: the probability of political-party succession is influenced by factors related to voters that reward those mayors who make more municipal investments, improving the quality of life of the population, which enable the minimization of inequalities through the transfer direct income and that have greater chances of establishing cooperation between the other spheres of government through party alignment. Contribution: the theoretical contribution is that informational asymmetry, public choices that involve the influence of human and institutional elements, and the voters' perception of social justice, are factors together that explain the political-party succession. As a practical contribution, it is argued that public administrators can use the state apparatus for their own benefits - leading to influence the voter's - which does not exercise social participation and/or does not use public and available information for adequate knowledge of the municipal management and governance.
Downloads
Download data is not yet available.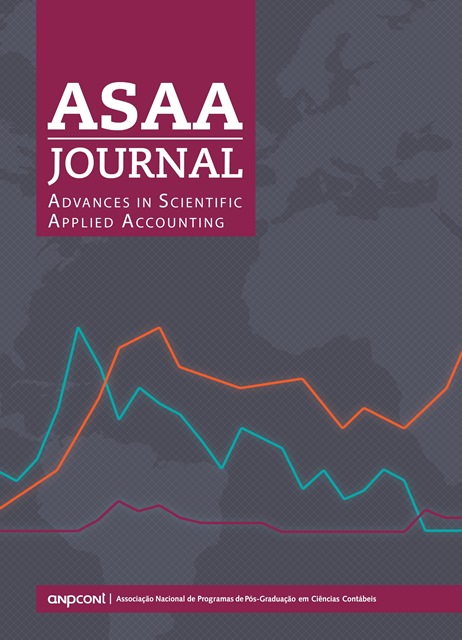 Downloads
How to Cite
Rocha, T. C. da, Araújo, J. M. de, & Brunozi Júnior, A. C. . (2021). BUDGETARY, POLITICAL AND SOCIOECONOMIC DETERMINANTS OF POLITICAL-PARTY SUCCESSION: EVIDENCE OF ELECTORAL BEHAVIOR IN BRAZILIAN MUNICIPALITIES. Advances in Scientific and Applied Accounting, 14(3), 035–052/053. https://doi.org/10.14392/asaa.2021140302
License
Copyright (c) 2021 Tiago Carneiro da Rocha, Juliana Maria de Araújo, Antônio Carlos Brunozi Júnior
This work is licensed under a Creative Commons Attribution-NonCommercial 4.0 International License.
Copyright for articles published in the ASAA Journal is held by the author, with first publication rights to the journal. By virtue of appearing in this publicly accessible journal, the articles are free to use, with their own attributions, in educational and non-commercial applications. The ASAA Journal will allow the use of published works for non-commercial purposes, including the right to submit the work to publicly accessible databases. Published articles are the authors' full and exclusive responsibility. There are no submission/publishing charges or fees for processing articles (APC).