O BID-ASK SPREAD E A GOVERNANÇA CERTIFICADA: UMA INVESTIGAÇÃO NO MERCADO DE CAPITAIS BRASILEIRO EM 2006
Keywords:
Spreads. Governança corporativa. Contabilidade internacional.
Abstract
Este estudo investiga se determinadas práticas de governança, denominadas de governança certificada, afetam negativamente os spreads das ações no mercado de capitais brasileiro. O bid-ask spread segundo a teoria é uma parcela do custo de negociação e uma das dimensões da liquidez. A governança certificada está representada pelos fatores: (i) adesão à governança Bovespa, (ii) publicação em contabilidade internacional sem ADR listado, e (iii) ADR listado na NYSE. Para relacionar a governança certificada com os spreads foi utilizado o modelo de Roll (1984), destinado ao mercado informacionalmente eficiente, estimando o valor implícito do spread, chamado de custo em transacionar. Foram adicionados a este modelo os referidos fatores de governança e verificado suas contribuições na estimativa da parte remanescente do spread que contempla a assimetria informacional. Os resultados indicam que os spreads podem ser reduzidos quando as empresas têm ADRs listados ou, na ausência deles, pelo menos publicam em contabilidade internacional.
Downloads
Download data is not yet available.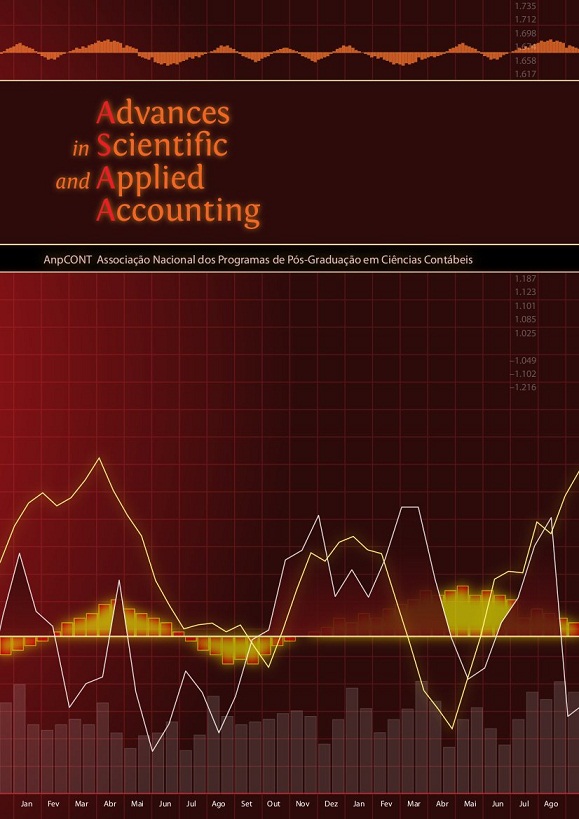 How to Cite
Lima, R. A., Teixeira, A. C. C., Lopes, A. B., & Teixeira, A. J. C. (2011). O BID-ASK SPREAD E A GOVERNANÇA CERTIFICADA: UMA INVESTIGAÇÃO NO MERCADO DE CAPITAIS BRASILEIRO EM 2006. Advances in Scientific and Applied Accounting, 4(1), 101–125. Retrieved from https://asaa.anpcont.org.br/index.php/asaa/article/view/40
License
Copyright for articles published in the ASAA Journal is held by the author, with first publication rights to the journal. By virtue of appearing in this publicly accessible journal, the articles are free to use, with their own attributions, in educational and non-commercial applications. The ASAA Journal will allow the use of published works for non-commercial purposes, including the right to submit the work to publicly accessible databases. Published articles are the authors' full and exclusive responsibility. There are no submission/publishing charges or fees for processing articles (APC).