RESPONSABILIDADE SOCIAL IMPACTA O DESEMPENHO FINANCEIRO DAS EMPRESAS?
Keywords:
Investimentos Sociais. Desempenho Financeiro. Balanço Social. IBASE. Regressão Múltipla
Abstract
Fundamentado na teoria dos stakeholders, o presente estudo tem por objetivo verificar, por meio da regressão linear múltipla, se a responsabilidade social, representada pelos indicadores sociais e ambientais, líquidos de encargos sociais compulsórios e tributos, causa impacto no desempenho financeiro das empresas. Para atingir o objetivo da pesquisa, foram analisados o desempenho financeiro e os indicadores sociais de 237 empresas, pertencentes a 15 setores da economia, no período de cinco anos. Como proxy do desempenho financeiro, variável dependente do modelo, utilizou-se a receita líquida, conforme correlação canônica, e da responsabilidade social os indicadores sociais líquidos de encargos sociais e tributos extraídos do balanços social. Foram incluídas, também, na análise empírica, variáveis de controle, de modo a garantir a robustez da análise. Tais variáveis foram: setor, representadas por variáveis dummies, e o tamanho, tendo como proxy as vendas. Os resultados evidenciaram haver um impacto positivo da responsabilidade social no desempenho das empresas, no que tange aos indicadores internos e externos, não se podendo rejeitar as hipóteses 1 e 2 da pesquisa. Quanto aos indicadores ambientais, não há indícios de que podem acarretar impactos, positivos ou negativos, no desempenho financeiro das empresas estudas, rejeitando-se, assim, a hipótese 3 da pesquisa.
Downloads
Download data is not yet available.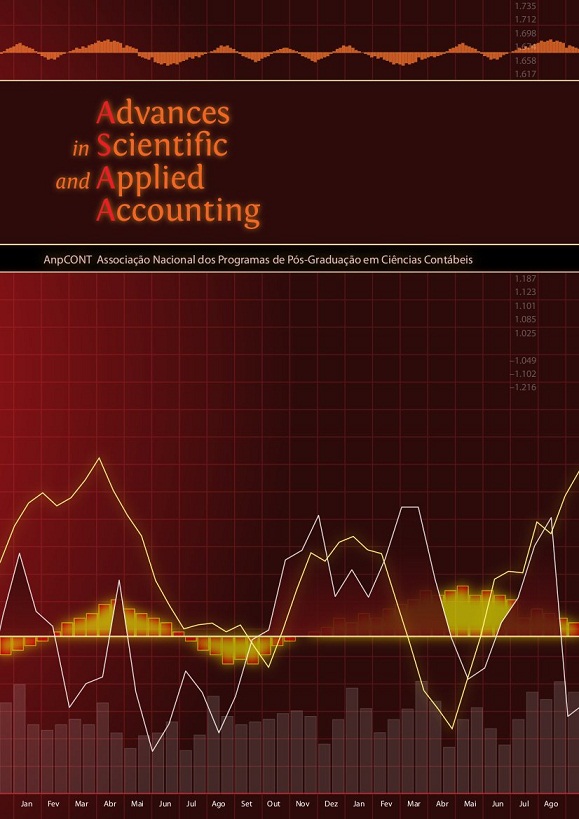 How to Cite
Machado, M. A. V., & Machado, M. R. (2011). RESPONSABILIDADE SOCIAL IMPACTA O DESEMPENHO FINANCEIRO DAS EMPRESAS?. Advances in Scientific and Applied Accounting, 4(1), 2–23. Retrieved from https://asaa.anpcont.org.br/index.php/asaa/article/view/35
License
Copyright for articles published in the ASAA Journal is held by the author, with first publication rights to the journal. By virtue of appearing in this publicly accessible journal, the articles are free to use, with their own attributions, in educational and non-commercial applications. The ASAA Journal will allow the use of published works for non-commercial purposes, including the right to submit the work to publicly accessible databases. Published articles are the authors' full and exclusive responsibility. There are no submission/publishing charges or fees for processing articles (APC).