INVISIBLE COLLEGE IN INTERDISCIPLINARY FIELDS: FOUCAULT IN ACCOUNTING RESEARCH
Keywords:
Foucault. Accounting Research. Bibliometry. Social Network. Bourdieu. Movements of Theories.
Abstract
Michel Foucault's works have been referenced in several fields of knowledge and such influence has also been noticed in accounting. The objective of this paper is to find at what point in time Foucault's work started to be used in accounting literature, how it was accepted or refused by researchers and identify invisible colleges. This study contributes to identify the development of a new area of research through the movements of theories between fields. It identifies how foucaultian researches have been utilized to explain power and disciplinary aspects in accounting. The first level of analysis is based on Bourdieu's theory and descriptive research. A total of 68 accounting journals were analyzed and 123 articles with reference to Foucault were identified. 40% are based in his theory and 60% are incidental appropriation according to Chartier's typology. The second level was a bibliometric analysis and revealed a significant presence of Foucault's ideas in Critical Accounting and a productivity behavior according to Lotka's Law. The third level of analysis is based on Social Network Theory. It aimed to identify invisible colleges dealing with this subject. Results showed a network of authors and journals in a more centralized position.
Downloads
Download data is not yet available.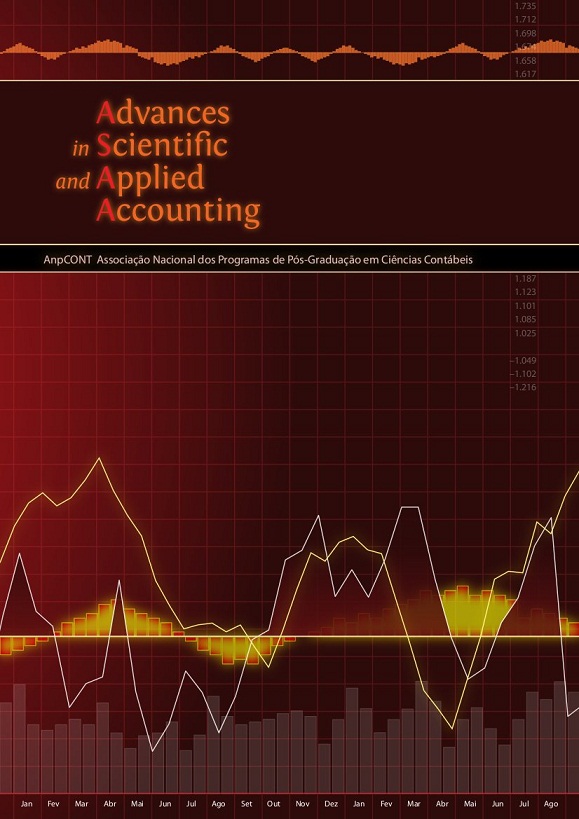 How to Cite
Mendonça Neto, O. R. de, Riccio, E. L., Sakata, M. C. G., Cardoso, R. L., & Quoniam, L. M. (2011). INVISIBLE COLLEGE IN INTERDISCIPLINARY FIELDS: FOUCAULT IN ACCOUNTING RESEARCH. Advances in Scientific and Applied Accounting, 3(2), 165–189. Retrieved from https://asaa.anpcont.org.br/index.php/asaa/article/view/10
License
Copyright for articles published in the ASAA Journal is held by the author, with first publication rights to the journal. By virtue of appearing in this publicly accessible journal, the articles are free to use, with their own attributions, in educational and non-commercial applications. The ASAA Journal will allow the use of published works for non-commercial purposes, including the right to submit the work to publicly accessible databases. Published articles are the authors' full and exclusive responsibility. There are no submission/publishing charges or fees for processing articles (APC).